BUSINESS
Battery Recycling Business

By discharging, drying, shredding, and sorting rechargeable batteries, we are producing concentrated sand containing cobalt and nickel called black mass, and recycling copper and aluminum. We also produce black mass and recycle copper and carbon from cathode and anode electrode materials by an efficient sorting method.
ITEMS
We are processing the following rechargeable batteries. We are recycling batteries responsibly by the "Recycling Process" described below.

Depending on the type of battery, we may purchase it as valuable, or we may charge a processing fee for batteries that are complicated to sort, disassemble and dispose. For the prefectures that we have a collection and transportation license, you can ask for collection. Please feel free to contact us by or email.
Lithium-ion batteries for consumer
(mobile, lap-top, electric bicycle)
Large size lithium-ion batteries
(electric car batteries, large size storage batteries)
Nickel-metal hydride battery
Other defective materials in battery manufacturing process
RECYCLING PROCESS
Battery Recycling Process
Click to see the actual photo.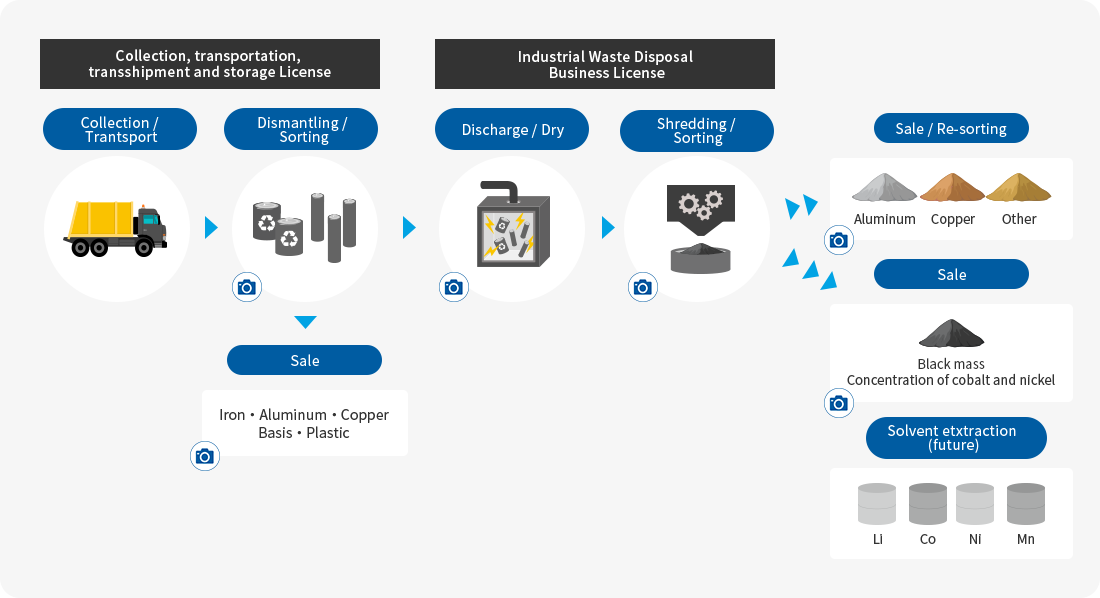 Electrode Recycling Process
Click to see the actual photo.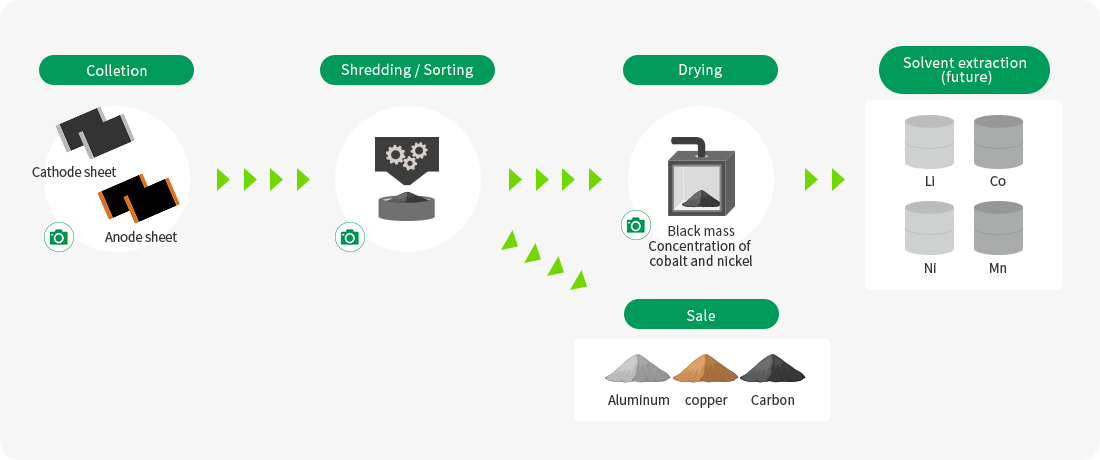 PRODUCT INFORMATION
Role of metals collected by VOLTA in lithium-ion batteries
Inside the lithium-ion battery, lithium ions go and back between the cathode and anode via the electrolyte to charge and discharge.
It is used as a cathode active material. Increasing the ratio increases the energy density, but the output is limited.
It is used as a cathode active material. If the ratio is increased, the energy density will be higher than that of cobalt, but it has the property of low thermal stability and short life.
It is used as a cathode active material. The higher the ratio, the higher the safety of the battery.
It is used as a collector for cathode. Active materials such as cobalt, nickel, and manganese are coated on aluminum foil.
It is used as a collector for anode. Carbon is often applied to copper foil as an active material.
Recovered metals in the future
FEATURE
Feature

1

Safety Recycling System

We are a wholly owned subsidiary of ENVIPRO HOLDINGS Inc., which was listed on the First Section of the Tokyo Stock Exchange on June 18, 2018. It is one of the few listed companies as a general recycling business, and we process batteries under the governance and management system of the listed companies.

Feature

2

Recycle not only the battery but also the case

ENVIPRO group has been recycling used materials such as used automobiles and OA equipment, which are composite materials made of various materials such as iron, non-ferrous metals, and plastics. We can propose comprehensive recycling for the case and accessories that make up the battery by utilizing the experience and strength of the group.

Feature

3

Worldwide Response Capability

ENVIPRO group has worldwide companies such as NEWSCON and 3WM, NEWSCON mainly imports and exports ferrous and non-ferrous recycling resources. 3WM specializes in container logistics in addition to import/export of used cars and heavy equipment. We will utilize their distribution network to carry out international battery recycling.